On a recent, mild summer day, one of the most talked-about new golf facilities in the U.S. was a busy place.
At rural Sand Valley Golf Resort in Adams County, south of Wisconsin Rapids, the large parking lot was nearly full and foursomes disappeared over broad sand dunes — who would have guessed in central Wisconsin? — with their caddies at the two 18-hole courses.
Attesting to the attention garnered by the new courses, among those on the links were a former U.S. Open champion and a group of 50 players from a Boston company.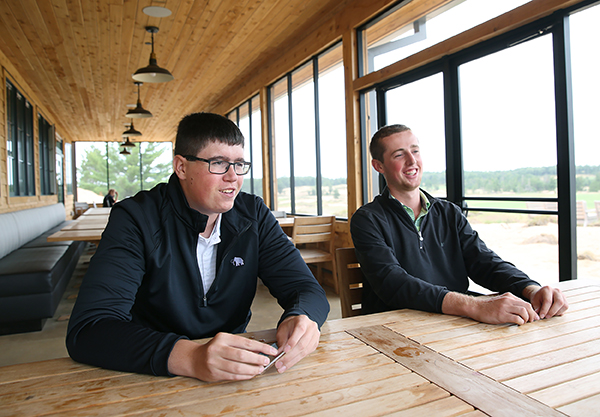 Helping make sure the day went smoothly for golfers was another group of people — 12 students and four alumni from University of Wisconsin-Stout working as interns, most from Career Services' Cooperative Education Program, and full-time employees.
The interns and alumni, many from UW-Stout's golf enterprise management program, were in a symbiotic relationship with the course: They were helping each other get started.
Sand Valley's first course, named Sand Valley, opened in 2017 and was named the best new course in the country by Golf Digest magazine. A second course, Mammoth Dunes, opened this spring. There's also a 17-hole — yes, 17 — par three course, the Sandbox, and a fourth course in the works. The courses feature sandy waste areas exposed from deep deposits of glacial sand.
"We're opening a new course and helping set the foundation for how Sand Valley runs the next 20 years," said Ryan Glodowski, a senior from Stevens Point with a double major, GEM along with hotel, restaurant and tourism management. "It's on-the-job experience. You can't beat it."
Glodowski's internship began in April and goes through November; he also interned at Sand Valley in 2017. His expanded duties this year include working with special events and implementing a pace-of-play system.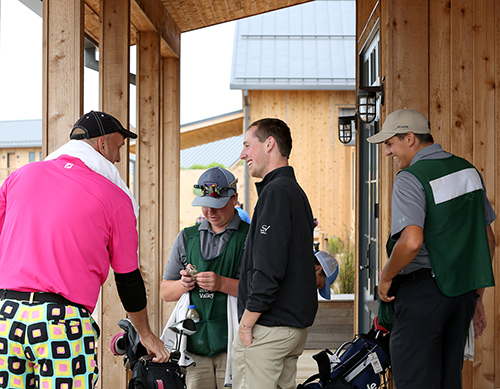 Like Glodowski, senior Drew Ringelstetter, of Portage, has his second internship at Sand Valley. He's helping manage other interns in the outside operations area after working in the golf shop and helping run events in 2017.
Glodowski, Ringelstetter and other interns have been working eight- to 10-hour days, six days a week.
"It's an amazing experience opening a new course," Ringelstetter said. "We make sure everything is running smoothly and up to par and that anything golfers need we'll deliver for them. The first impression people have is key."
Experience and opportunities
Glodowski and Ringelstetter say they've seen aspects of what they've learned in GEM classes at UW-Stout come together with practical knowledge during their internships, such as operations budgeting, turf management, marketing classes and customer service.
"We see the whole gamut of golf operations here," Ringelstetter said. "We don't just want to learn the golf side but the whole business."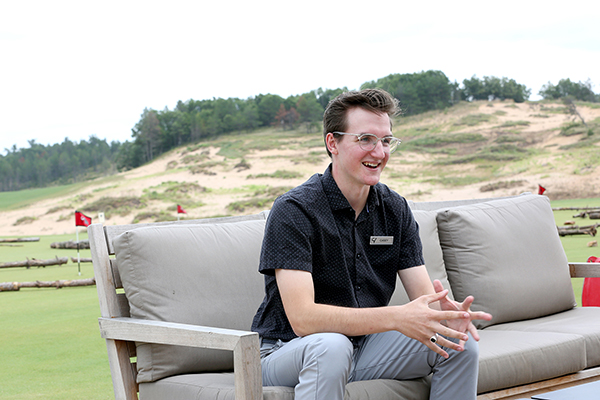 Because of its reputation, Sand Valley has drawn high-level golf pros, club managers and business executives. The opportunity for students to work alongside those people while showing their skills is another benefit of being at the course, they said. "People expect the best, and we want to perform the best," Glodowski said.
Sand Valley is owned by the Keiser family, which built a similar links-style, acclaimed golf operation called Bandon Dunes on Oregon's coast.
Casey Sabinash, a senior from Milwaukee, interned at Bandon Dunes in 2017 and at Sand Valley this summer. He also worked last year with a vendor at Erin Hills during the U.S. Open in Wisconsin, which has become one of the world's top golf destinations.
Originally a track and cross country recruit at UW-Stout who also loves golf, Sabinash plans to begin his career in the retail merchandising aspect of the golf industry. He is a double major in GEM and business administration.
"I found my niche in merchandise. The internships have driven my business acumen. It's a side of the business a lot of people don't think about — retail sales," he said.
At Sand Valley, he has worked in merchandise receiving and the golf shop, which sells a variety of products along with clothing. "The GEM program prepares all of us to do wonders in the industry and represent Stout with pride," Sabinash said.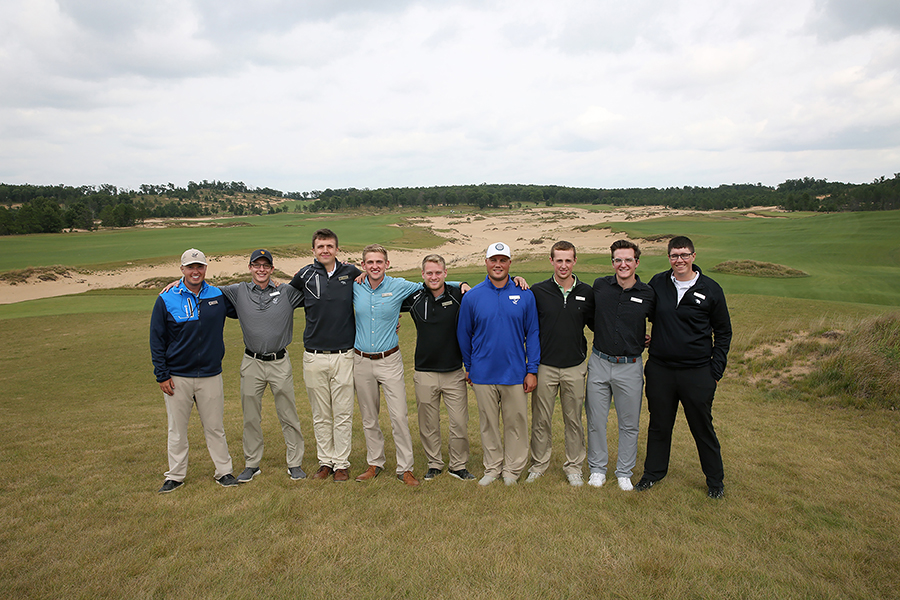 Other UW-Stout students at Sand Valley this summer were:
Corey Bunt, of Wooster, Ohio, intern, hotel, restaurant and tourism management major

Jill Daavettila, of Pleasant Prairie, intern, business administration major

Justin Doriott, of Hillsdale, intern, GEM major

Michael Elsen, of Coon Rapids, Minn., intern, GEM major

Dong Young Jang, of Ansan, South Korea, GEM major

Katherine Kiraly, of Stanley, intern, GEM major

Andrew Marshall, of Knapp, intern, GEM major

Mason Taylor, of St. Paul, intern, GEM major

Laura Tews, of Campbellsport, merchandising intern, retail merchandising management major
UW-Stout alumni working at Sand Valley are:
Logan Block, of Wausau, May graduate in business administration, food and beverage manager

Brett Gerzmehle, of Nekoosa, May graduate, caddie manager

Logan Hamack, of Luck, May graduate, assistant pro and merchandise assistant

Adam Robson, of Burnsville, 2016 graduate, assistant caddie manager
Block, Gerzmehle and Hamack interned at Sand Valley in 2017, leading to jobs this year.
In addition to 12 co-ops and internships this year, 11 UW-Stout students worked at Sand Valley in summer and fall 2017.
Howie Samb, assistant professor in the School of Hospitality Leadership, helps UW-Stout students find co-op experiences around the Midwest and country. "All of our interns have a great opportunity to learn the golf industry firsthand and put to work what they learned in the classroom. The response from employers from all parts of the country that have hired our students is 99.9 percent positive, which is really rewarding to hear."
Todd Gilley, one of the PGA golf pros at Sand Valley, complimented the UW-Stout interns. "They must have a pretty good program. They all have been a pleasure to work with. They have great demeanors, are go-getters and intelligent. We rely on them a lot, and they all do a great job," Gilley said.
###
Photos
Top: Ryan Glodowski, left, and Drew Ringelstetter were two of 12 UW-Stout interns at Sand Valley this summer.
Second: Ringelstetter, center, talks with a golfer at Sand Valley.
Third: Casey Sabinash, interning at Sand Valley this summer, plans to begin his career in the retail aspect of the golf industry.
Bottom: UW-Stout had 12 interns and four employees working at Sand Valley this summer. Among them, from left, were Justin Doriott, Brett Gerzmehle, Mason Taylor, Logan Block, Logan Hamack, Adam Robson, Drew Ringelstetter, Casey Sabinash and Ryan Glodowski.