University of Wisconsin-Stout's spring semester commencement ceremonies will be held for 750 graduates Saturday, Dec. 14, at Johnson Fieldhouse.
A total of 621 undergraduates and 129 Graduate School students will receive degrees in 9:30 a.m. and 2 p.m. ceremonies.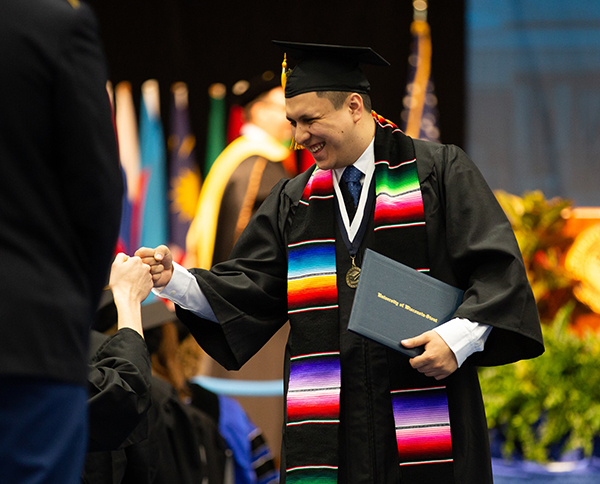 The 9:30 a.m. ceremony will be for graduates from the College of Science, Technology, Engineering, Mathematics and Management; and the Graduate School.
The 2 p.m. ceremony will be for graduates from the College of Education, Hospitality, Health and Human Sciences; the College of Arts, Communication, Humanities and Social Sciences; and the Graduate School.
Interim Chancellor Patrick Guilfoile will address the graduates and confer degrees, and interim Provost Glendali Rodriguez will welcome the graduates and preside.
Student speakers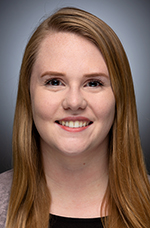 Through a nomination and selection process, a graduating student has been chosen to speak at each ceremony. Megan McClay, of Butternut, will speak at the 9:30 ceremony. She will be receiving a diploma in applied mathematics and computer science.
"I am proud to be a Stout graduate not only because of the things I have accomplished academically but because of the person Stout has shaped me to be," McClay said. "I feel I am prepared to do some great things."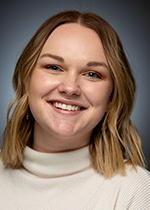 Kailee Bjerke, of Spring Grove, Minn., will speak at the afternoon ceremony. She is receiving a degree in professional communication and emerging media.
"Through my years here at Stout, I have experienced so much. I am proud to say that it has made me into the strong, independent woman I am today," Bjerke said.
ROTC Commissioning
The 9:30 a.m. ceremony will include the commissioning of two cadets from the Army ROTC — Reserve Officer Training Corps — program on campus. Kolt Knutson, of Sturgeon Bay, who is graduating in engineering technology; and Jenna Sorenson, of Port Wing, a business administration graduate.
A separate ceremony for the cadets, including their National Guard oath and first salute, will be held at noon at Huff's Lounge, on the lower level of the Memorial Student Center.
Both will join the Wisconsin National Guard, Knutson in engineering and Sorenson in aviation.
Commencement details
Deans of the colleges will present the graduates. They are Chuck Bomar, STEMM; Bob Salt, CEHHHS; and Maria Alm, CACHSS. Presenting the graduates for the Graduate School will be Director Renee Chandler.
Music will be provided by the university's Symphonic Band and Jazz Orchestra, directed by Aaron M. Durst. Choral selections will be performed by the university's Symphonic Singers and Chamber Choir, directed by Jerry Hui.
Doors open 45 minutes before each ceremony. Graduates should arrive no less than 45 minutes before their ceremony. Each program is expected to last from 1½ to 2 hours.
Receptions will immediately follow the ceremonies in room 50 of the Sports and Fitness Center. All graduates and guests are welcome.

Tickets are required for ages three and older. Each graduate will receive five tickets, which can be picked up at the Service Center, lower level, in the Memorial Student Center.
The ceremonies also can be viewed on a closed-circuit projection screen at the Terrace of the Memorial Student Center. All ceremonies can be viewed via the commencement website.
Parking will be available in any UW-Stout lot, except for spots with reserved signs.
For more information, contact Commencement Coordinator Britta Miller, 715-232-4052, or email commencement@uwstout.edu.
###
Photos
A student celebrates after receiving his diploma during a May commencement ceremony at UW-Stout.
Megan McClay
Kailee Bjerke