University of Wisconsin-Stout alumna Erin Hogan-Braker, owner of two tailoring businesses, strives to find a perfect fit for every body.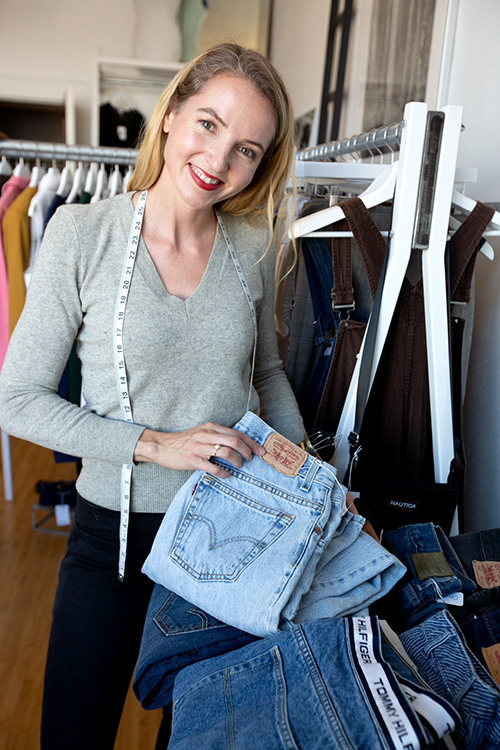 Hogan-Braker, who graduated in 2005 with a degree in apparel design and development, owns two businesses with locations in New York and Wisconsin. She is opening her third location this fall in Edina, Minn.
Stitched Up is an untraditional tailoring shop, offering vintage denim for sale and traditional alterations. Her second business, 7th Bone Tailoring, is an agency matching top commercial tailors with the world's biggest brands and icons.
Recently at the Emmy Awards Sept. 22 in Los Angeles, 7th Bone Tailoring provided tailors to stars Catherine Zeta-Jones, Sam Rockwell and a corset top for Kim Kardashian.
The clientele list for 7th Bone Tailoring has bookings in New York, Los Angeles and Minneapolis and reads like a virtual who's who. From celebrities Jennifer Lopez to Hugh Jackman and Kardashian to Ryan Seacrest and companies including American Eagle, Victoria's Secret and Bloomingdales.
"My businesses are tools for tailors," she said. "Yes, the people who come in and the celebrities are the clients. I am trying to make the workflow for tailors easier because the sewing is hard enough."
Stitched Up, 110 Main St. in Menomonie, alters clothing for bridal and special events, and it also carries by appointment or during pop-up events high-end vintage apparel, including old-school denim.
"We tailor the jeans, so they fit perfectly," Hogan-Braker said. "We can customize them with different patches and stitching. Once you have jeans that fit right, the rest of your clothing feels ill-fitting. Denim never goes out of style. We want to sell you things you keep in your closet forever. We can repair them and patch them so you can keep your favorite jeans longer. You are stopping the cycle of waste. You can reduce so much of what is in your closet. You know your jeans will look great on you.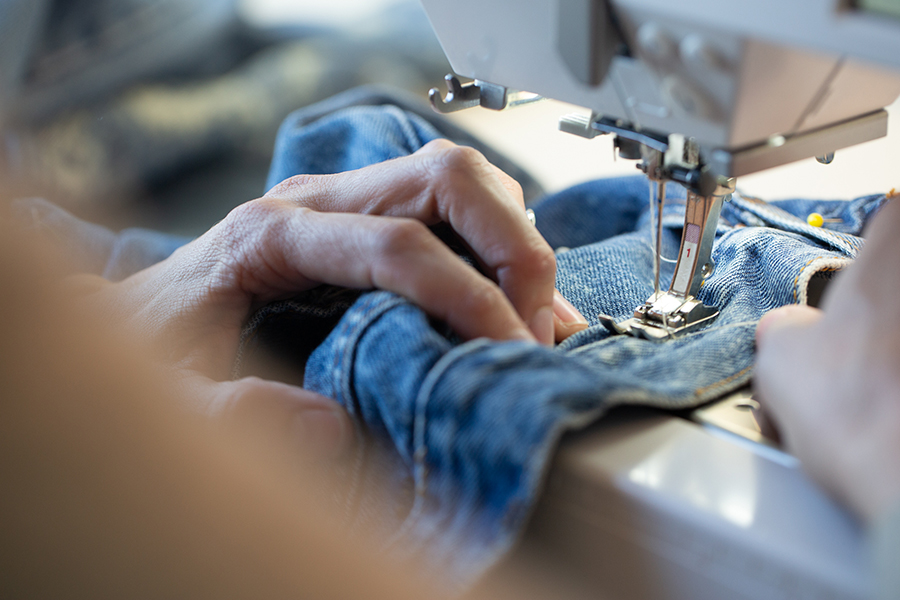 "You can think of us as helping you be your own designer," Hogan-Braker added. "If you have a piece of clothing, you love the fabric, but something needs to change about it. Sewing is an art, but it takes time."
Hogan-Braker was born in Menomonie and raised in New Mexico. Her mother, Julie Hogan, is a children's sewing teacher at Ann Silva's Bernina Sewing Center and specialized in Camp Sew Fun, a summer kids camp in Albuquerque, N.M., sponsored by Ann Silva's Sewing Center, Bernina and Baby Lock.  Hogan learned to be a seamstress from her mother, Joan Hogan.
"I basically grew up in sewing school," said Hogan-Braker, of Menomonie.
After graduating from Highland High School in Albuquerque, Hogan-Braker decided to attend UW-Stout, closer to where her birth father, Steve Braker, and other family members lived. However, at first, she could not decide what she should study, changing her major half a dozen times.
"I didn't understand at the time that the technical designer role UW-Stout prepares you for is such a critical role in the apparel industry," she said of the apparel design and development degree.
Eventually, she realized she should pursue a career doing what she already knew a lot about and loved — sewing.
Keen eye for styling
Gindy Neidermyer, associate dean in the College of Science, Technology, Engineering, Mathematics and Management and a professor in the apparel design and development program, has followed Hogan-Braker's work for years and knows of no other apparel graduate who has started and manages two businesses simultaneously.
"She has a keen eye for styling and savvy tailoring skills to create a jean fit unlike any other," Neidermyer said.
"She knows how to rebuild a pair of jeans to fit anyone perfectly. Erin is a savvy businesswoman who saw gaps in the industry and knew exactly how to meet demand. Erin has amazing sewing skills that allow her to build and transform garments to meet client expectations. She represents Stout and the apparel design and development program in progressive and innovative ways," Neidermyer said.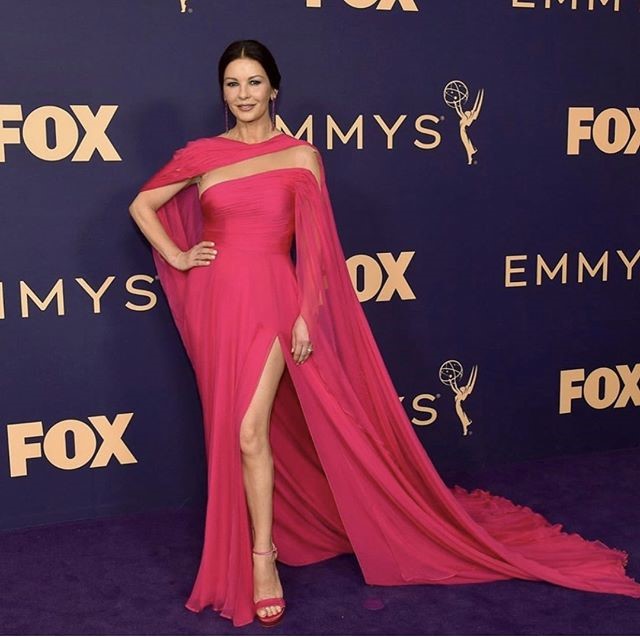 After graduating from UW-Stout, Hogan-Braker traveled to New York and interned for 1½ years with Alexandre Plokhov, who founded the fashion label Cloak in 200o. Cloak ended in 2007, and he launched a line under his name in 2010 that continued until 2015. He was known for his razor-sharp tailoring, details and luxurious fabrics.
"I wanted to understand the fashion industry," Hogan-Braker said. "He was a pattern-maker and tailor himself. At one point he had me replace a button on a jacket. It took all day to replace all the buttons on the coat because it had to be perfect. He had me redo my work multiple times, building the button shank to exactly 3/16th of an inch."
After that, Hogan-Braker was an apprentice for eight years with Nelson Arriaga, who handmade men's suits. She also learned from Nicolas Caito, a French pattern-maker who works in New York City and who taught her pattern-making, specifically the art of draping on the dress form.
Her first on-set tailoring job on a photo shoot was for Ralph Lauren. She had to alter 30 suits in eight hours for a commercial shoot. In 2008, the same year she founded Stitched Up in New York City, Hogan-Braker made her first suit for Thomas Keller, chef, restaurateur and cookbook writer, who owns the Napa Valley Restaurant, the French Laundry in Yountville, Calif., and Per Se in New York.
"A men's suit is the hardest garment that you can make," Hogan-Braker said. "A woman's dress is fashion, so it can look any which way. A man's suit has boundaries and rules. That is why I am obsessed with suiting. If it's shorter then it's fashion; if it's too long it doesn't look right. It takes an eagle eye. It's always the same garment. But if you make a pocket an inch bigger, it's off and it looks like a clown suit. That's where the fit comes in. You're making it fit for them. Sometimes I will tweak things a quarter of an inch, and it's theirs and it's custom."
Keller taught Hogan-Braker the importance of building a team and modeled how to be a world-class, standard-setting business.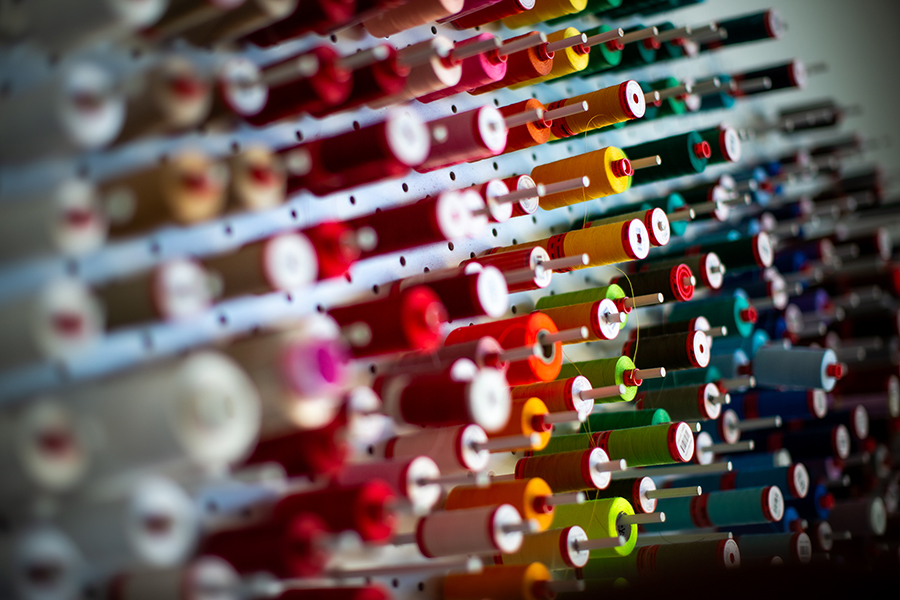 In 2011 she started 7th Bone Tailoring. It was named for Arriaga's teaching that suits were to be fit to the seventh vertebrae down. The agency has five tailors in the Los Angeles area and eight to 10 in New York who are available whenever needed to provide tailoring service wherever needed. All work is referral based.
Even though she has met many stars and helped them to find a perfect fashion fit, Hogan-Braker notes they are just like everyone else. "They are like regular people, who want their workday to end and get back to their families," she noted. "You don't get to be at that level without being an incredibly hard-working person. The Kardashians truly are family, a group of sisters hanging out as sisters do. J. Lo says she is an artist and an entertainer, and it's her job to make it all look easy."
Family history starting businesses
While going to UW-Stout, Hogan-Braker worked as a bartender at the Bolo Country Inn, originally started by her grandfather, Bill Braker, and when it closed and was owned by family members Billie and Dick Walleen and Sue and Dick Neubauer. The supper club was known for its unique décor dedicated to the memory of Braker's favorite black Labrador retriever.
"I grew up in a family where you start your own business," Hogan-Braker said. "It can be anything in your imagination."
Hogan-Braker also regularly creates how-to videos for We All Sew on the Bernina sewing machine website. It is the only machine she will use because of the durability and reliability. "I've sewn on a beach with my Bernina," she said. "I've sewn in the Paris Opera House with my Bernina. I just don't trust anything else."
Hogan-Braker has always shopped at thrift stores. "It makes so much sense, and it is so much fun to personalize your clothing," she said.
Hogan-Braker works with Summer Lahti, a senior UW-Stout professional communications and emerging media senior, who is a tailor at Stitched Up in Menomonie. Lahti, of Mount Calvary, plans to finish her last year of college at City University of New York in Queens through UW-Stout's National Student Exchange. While in New York, she plans to work at Stitched Up.
Last spring, Hogan-Braker worked with the student-run Wear Fashion Show at UW-Stout to mentor students, Neidermyer said. "Erin has an amazing sense of humor and is extremely energetic and kind," Neidermyer said. "She loves sharing her knowledge and path of development with current students who desire to grow like she did."
###
Photos
Stitched Up, which has a location in Menomonie, offers vintage denim that is custom tailored.
Creating the perfect fit in vintage denim helps repurpose denim jeans.
One of the celebrities 7th Bone Tailoring worked with at the Emmys was Catherine Zeta-Jones./7th Bone Tailoring photo
Hogan-Braker has met many celebrities and helped them find the perfect fashion fit.